Featured Videos
Tricking a 7 year old kid on xbox live is fun :) Sorry about the sound, trying ...
Sega's Brand Manager, Wayne Shiu discuss the third person action game from the sam...
Wow. I don't even know how to describe how awesome this is. Rick Astley himself Ri...
Wet, Brink and Left 4 Dead 2, its trailer season boys, this is inside gaming for E...
Well now we know... rarrr! A short scene from the ultra rare film Return Of Th...
i know it isnt really a movie theater but its cool
Powered by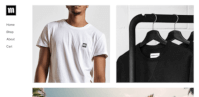 Create your own unique website with customizable templates.